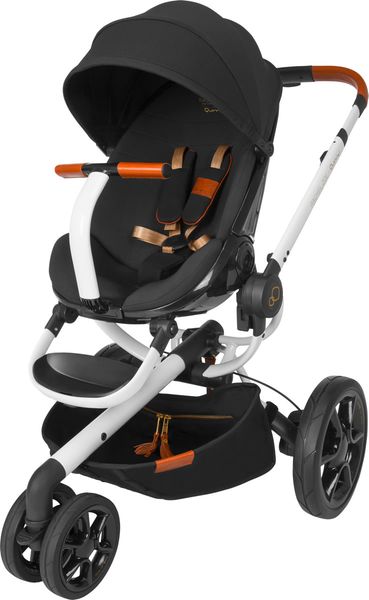 Spaceship and Cadillac version of a stroller
By Vicki
from Ankeny IA
on April 20, 2022
Verified Buyer
Love how it reclines and looks, beautiful stroller good from 6 months, my child is 4 and still fits into it , to bad his baby brother using it now :)
By Stevie
from Md
on September 4, 2021
Verified Buyer
This stroller is absolutely amazing I purchased it last year for my new born and it works so well with his cybex car seat I didn't have to purchase any adapter pieces the stroller came with multiple. Easy to store.
By Laura
from Chicago IL
on November 6, 2020
Verified Buyer
This stroller is stunning! So easy to maneuver!
This is a really cool stroller
By Max
from Houston, Tx
on July 31, 2020
Verified Buyer
My wife loves this stroller. It is easy to open and fold. It fits easily in back of her wagon and my sedan, without having to remove the seat. The white frame and black upholstery look really sleek. This is easy to steer and turns very well. Makes for a very stylish baby!!
Pros
Easy to fold and open
Looks really great
By Des
from New York
on July 4, 2020
Verified Buyer
The stroller is amazing my grandson is enjoying it and it rides smooth glad i brought it
Pros
It's perfect size for a 3 month or older baby
By Alhussain
from Fairfax, Virginia
on June 26, 2020
Verified Buyer
This is my second Quinny. The first was purchased used 5 years ago. It still perfect functionally but we couldn't replace its fabrics. Its tires inflatable and easy to move with one hand. The Rachel Zoe Quinny share the same level of sturdiness but way more elite. Beside that, the rear tires are not inflatable. My son is 55 lb. He sat on the stroller and I could moved him with one hand.
Pros
1- Very beautiful and elite
2- No inflatable rear tires.
3- Easy to navigate with one hand even with heavy weight
Cons
Very very very heavy stroller.
By Azucena P.
from Fullerton,California
on June 5, 2020
Verified Buyer
Such a gorgeous stroller I am IN LOVE! And so thankful I found it on Albee baby as it was so hard to find! Also such an amazing price ... so thankful it came with the car seat adapters as well! :)
By Raj
from 29412
on May 21, 2020
Verified Buyer
Great quality
By Samantha
from Los Angeles
on May 12, 2020
Verified Buyer
Amazing stroller amazing colors as well as price i love buying from albee baby because the prices are always affordable this is the only website with such low prices for quality luxurious items
Pros
Weight
Style
Age/weight limit
Easy fold/ unfold
Adapts to car seats
By Bryn
from Middleton Delaware
on January 15, 2020
Verified Buyer
I love the attention the stroller receives, there's nothing like it on the market. I love it
You do not have to take it apart to old it!
By Megan
from College Station, Texas
on January 10, 2020
Verified Buyer
It's gorgeous and you do not have to take off the seat to fold it!!!! So if you're in the parking lot it is so much safer !!!! You quickly push two buttons down , it collapses and you throw it in the car!
By Natalie
from Fort Lauderdale, Florida
on December 6, 2019
Verified Buyer
Love it I got so many compliments
By Natalie
from Fort Lauderdale, Florida
on December 6, 2019
Verified Buyer
Beautiful stroller
By Monica
from Bonney Lake Wa
on March 2, 2019
Verified Buyer
Easy to assemble, Great quality! Easy fold! Compact size and very chick.
By Humberto
from MIAMI, Florida
on February 18, 2019
Verified Buyer
VERY GOOD TO DO EXERCISE, THE WHEELS ARE LIKE A 4X4! I CAN WALK FOR A HOUR AND THE BABY FEELS VERY COMFORTABLE AND WITHOUT STRESS! THE ONLY THING IS THAT TO TRANSPORT IT IS A LITTLE BIT! BUT I DO NOT CHANGE IT FOR NOTHING!
Pros
IT IS NOT COMFORTABLE TO TRAVEL WITH IT! OCCUPY ALL THE TRUNK OF THE CAR !!
By Emilly
from California
on December 9, 2018
Verified Buyer
Incredible stroller! Steers like a dream and is super smooth ! As for the seating it's superrrr cushioned so I know our baby will be super comfortable! Cushion is also detachable and is able to be machine washed. I'm very satisfied with this purchase. However side note the stroller is heavy. It is not a light weight stroller. But with all the amazing details this stroller has I don't mind lifting up the extra pounds . . I also bought the maxi cos? car seat and it fits in perfect I do not need an adapter for the stroller as the one that came with it fits the maxi cos? brand like a glove. The only bummer was that the wheel of the stroller arrived broken. I contacted customer service from the manufacturer and they were super nice and sent a brand new one next day mail with no fees! So great customer service!
Pros
Extremely cushioned seating
Super fashionable
Incredible mobility/ steering
Smooth feel for baby when riding
Easy clean up- detached accessories and cushions are machine washable
By Christine B.
from Texas
on December 7, 2018
Verified Buyer
I always found this stroller beautiful, but I found it a bit heavy and takes up a lot of space in the car trunk. But otherwise, it is very nice and comfortable.
By Maria
from Ocean city, Maryland
on September 24, 2018
Verified Buyer
I really enjoy my stroller, I was looking for exact color plus easy moving/packing stroller to put in my trunk . I love everything about it . I get a lot of compliments, it's easy to pack / switch to car seat. Easy and comfortable drive and roomy for my kid
By elisa
from El paso, Texas
on July 9, 2018
Verified Buyer
This stroller was not the top of my list. When I saw it had a good discount, it was stylish and the brand was familiar to me, I decided to purchase it. I cannot be more glad to have made the decision, it's easy to fold and unfold; even though the frame is a bit bulky, it's not heavy. The fabric is amazing, doesn't stain easily so it's essy to clean. The downsides, some accessories are not as easy to find ( due to stores carrying the brand in-store and online), and the storage below is not as useful because there is a pole running through the basket so you can put your diaper bag, only small stuff. Happy to have bought it, don't know if I had bought it full price though...
Cons
Storage
Accessory Availability
By Mackensey
from STOUGHTON, WI
on June 1, 2018
Verified Buyer
We previously owned the Quinn's buzz. The moodds seat is significantly smaller, it is harder to push and not as smooth of a ride. Great look, but if I had to purchase again I would choose the buzz over the moodd
By ashley
from philadelphia, Pennsylvania
on April 22, 2018
Verified Buyer
Very stable stroller, simple assembly. Seating is very Comfortable for babies. Does come with a sets of maxi cosi car seat adapter.
Quality product, great price
By LeeLee
from parker, Colorado
on February 28, 2018
Verified Buyer
Came faster than expected and was exactly what I expected. I already knew that the basket and hood was going to be small but the overall quality is worth it. The wheels are so sturdy and smooth perfect for all terrain and I love the design. Satisfied overall
Pros
Design, quality(strong and sturdy)
Cons
Small basket/storage space
Sun coverage is limited
By Mariah
from Snellville, Georgia
on February 22, 2018
Verified Buyer
Love the color and love that its black frame. Purchased Maxi Cosi mico to go with. Appreciate the price cut.
By Rose
from Chillicothe, Missouri
on February 6, 2018
Verified Buyer
My husband and I love this stroller. We get a lot of compliments when we use the tuk bassinet. My baby sleeps well in this when we are long walks, it drives very smooth.
Pros
Great price and very posh
Best Uses
Long walks and rough terrain
Cons
The frame is a little squeaky
Quinny mood- high quality
By K C.
from Quincy, il
on January 26, 2018
Verified Buyer
High quality, yet functional. I do agree with other comments that the basket is small. However, stroller is everything I hoped it would be and at $299 it's a great deal!
By Yi
from West Covina, California
on December 22, 2017
Verified Buyer
The best stroller, great design and safe, easy to use. Love it.
By Elina
from valley village, California
on December 11, 2017
Verified Buyer
this is a very stylish and comfortable stroller. the only bad side that the basket is very small, but I would still recommend this stroller. I'm often stopped and asked where I got it from.
Pros
handling, color, quality, light
By Tania
from Miami, fl
on December 3, 2017
Verified Buyer
Beautiful, beautiful very comfortable lightweight.
By Jonni
from Sao Paulo. Brazil
on October 26, 2017
Verified Buyer
Great Product.. Easy to assembly and use...
By Cecilia Z.
from Los Angeles, CA
on September 29, 2017
Verified Buyer
Highly recommend! Will buy again..
By Jenny
from Ventura
on September 22, 2017
Verified Buyer
I love quinny style. This gave me an awesome opportunity to get this stroller at a great price.
By Pamela
from , Kissimmee, Fl
on September 19, 2017
Verified Buyer
Its amazing, i highly recommend it!!
Pros
Fancy, clean and comfortable
Cons
A bit hard to close when facing front.
By Leticia H.
from Houston TX
on September 19, 2017
Verified Buyer
I am beyond satisfied with this stroller, even my 15 month old daughter agrees with me. Every time She sees the stroller she wants to be seated and push. I extremely recommends this model. The price is a steal as well.
By Dilia
from Bronx, NY
on August 24, 2017
Verified Buyer
It's exactly what I expected.
Pros
You can adjust the seat facing you, it actually came with the car seat adapter which thank God I didn't purchase separately
Quinny Moodd Stroller - Green Courage
By Amie
from NY
on August 19, 2017
Verified Buyer
This is a cool looking stroller. Very comfortable seat for the baby. Feels compact. The Seat fabric is not of very good material, yet it is comfy. The canopy is a thin slinky type of fabric, also not durable. The wheels are air tires, arrived flat no air and there is no air pump so you need to purchase one. Most strollers with air tires come with an air pump this one doesn't. The break / stopper for this stroller is very hard to break/release. I read reviews regarding this issue and it is true. Overall I got it cause of fashion not quality. It's good for a second stroller with pop color, but not for travel.
Pros
Fashionable
Comfy seat, good recline
Cons
Air tires
Seat fabric quality
By Hilda
from New York, New York
on August 14, 2017
Verified Buyer
the stroller not only looks chic is super practical easy to maneuver and light, I love the adjustment of the height for when I'm wearing heels.
By Patty
from Durham,Nc
on August 12, 2017
Verified Buyer
Shipping was super fast !! And the stroller is amazing! I can't wait for my baby to get here and use it. :) its great for an awesome price.
Great service and good looking stroller
By Donna
from San Diego, Ca
on August 1, 2017
Verified Buyer
I purchased this model because of the style and price. Albee Baby offered the best price out in the market today, and it arrived quicker than expected. I was given a T# right away, and it actually showed up sooner than it's estimated delivery.Opening up the box and assembling the stroller was easy. The overall quality is good. I have not used it just yet. The color is a nice gloss black. The fabric is soft, feels comfortable for baby. The maneuvering feels excellent as well. Most people complain about the breaks not stopping the stroller immediately, but I don't have that issue. Other people mention it's heavy, but I think it's an okay weight. For me, I'm petite, which is why I chose this stroller. Most other strollers are bulkier and the handle to control the stroller are too high for me. This is just the right height and can be adjusted for taller folks.The only complaint I have right now is the shade keeps coming off as I recline the seat up and down. Not a big deal, but it's definitely installed as instructed and clipped as it states, but still comes off every recline. May have to confirm with the manufacturer if this is common/normal. Otherwise, I'm satisfied and will update my review upon use with our baby #2.
By Melissa
from San Diego
on June 2, 2017
Verified Buyer
Best wheels for a stroller doesn't get stuck it's very easy to maneuver very sturdy too and with the maxi cossi car seat love it
Best Uses
For toddlers and babies with the car seat
By Ainur
from Florida
on May 26, 2017
Verified Buyer
This stroller now for the best price!It looks very stylish and modern! Easy to unfold. Best option for city. Absolutely love my stroller!
By Sheila
from Arverne, New York
on May 23, 2017
Verified Buyer
Rides smoothly. Good store have more things in my shopping cart to order.
By Rhona L.
from Brooklyn
on May 17, 2017
Verified Buyer
The colour is absolutely gorgous. Fantastic stroller at a great price!!
By Diana c.
from New York
on May 7, 2017
Verified Buyer
My delivery was very quick , I love the stroller , the seat is a little heavy but everything else is perfect I'm totally in love with it .
By Mel
from New York
on April 23, 2017
Verified Buyer
Great designed and light weight, this is the second Quinny stroller me and my wife purchased and we're very happy with it
Cons
Wish the third wheel was bigger
By New p.
from Nyc
on April 9, 2017
Verified Buyer
Love it! It was simple to put together. Love the colors. Its very compact compared to the other Quinny. Aittle on the heavy side but worth it.
By Linda
from San Diego Ca
on April 9, 2017
Verified Buyer
This stroller is great for the price. The only con is the storage underneath is small but a diaper/ shopping bags can be clipped on with additional hooks to the handle piece.
By anna r.
from annarod0606@gmail.com
on March 17, 2017
Verified Buyer
I love our new stroller
Beautiful combination of design, quality, and price
By Vladimir B.
from Brooklyn, NY
on March 17, 2017
Verified Buyer
The stroller looked just the way we expected. It is very accessible in its use, easy and comfortable! Easily fits into the trunk)
Love it besides minor issues
By Kalima
from Brooklyn
on March 9, 2017
Verified Buyer
The brakes is kind of hard to push down and and my wheels sounds a lil squeak sometimes I'm wondering if anyone else has this problem besides that I love the stroller oh and I wish the basket at the bottom was bigger l.
Cons
The basket is to small
The brakes is to hard sometimes to press on
By Carlos
from California
on March 1, 2017
Verified Buyer
I purchased this stroller to make my son comfortable for long trips to a theme park, and so far I know I made the right choice. I have no complaints about this beautiful stroller. Worth every penny!