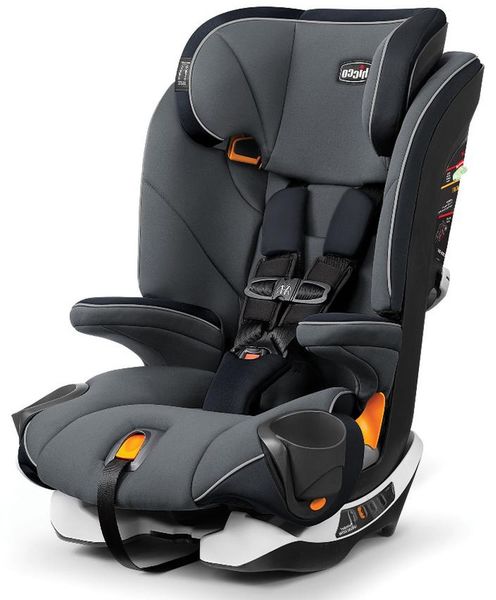 By MJ
from New York, New York
on March 29, 2023
Verified Buyer
We used it for 3-4years. Stable and comfortable!
By jamie
from New Jersey ,
on March 26, 2023
Verified Buyer
Love love love ! These are comfortable, easy install. I love that they have a recline option. Very safe and protected. My kids also love the cup holders
By Nikki
from Hurricane, West Virginia
on January 13, 2023
Verified Buyer
Great next step once we sized out of the Chicco NextFit! We went with this one for the grandparent's vehicle. It's easy to install, and comfortable.
So much better than a booster
By Nana
from Rochester, MN
on August 31, 2022
Verified Buyer
This harness booster made my 4 year old granddaughter very happy. She really wanted to move to a booster car seat because her 5 and 6 year old friends were talking about them. Being younger and really petite this seat was a great compromise. The harness is ever better padded than in her convertible car seat, and she can get in more easily and buckle herself in (except for the tightening step). Installation was quick and easy and it is solid in my car. Now she is really looking forward to school starting again and jumping into her new car seat in the pickup line.
Pros
Freedom of movement of a booster with the safety and security of a harness
Well padded harness with easy buckle system
Ease of installation
Best Uses
Transition from convertible seat to booster seat
Great for small kids
Bought 2 years ago and still amazing!
By Abigayle
from Greenwich, Ohio
on June 22, 2022
I bought this for my kids 2 years ago before welcoming another sibling and I'm still so happy with my purchase!
By Manny
from Ventura
on May 25, 2022
Verified Buyer
I love the Chico car seat I purchased through ALBEEBABU ! Shipping wasn't long and the product is exactly as described . I look forward to purchasing through them again
Pros
Reclines a good bit
Has good length arm rests
Two cup holders
Harness support belt system
By Madalyn
from Hixton, Wisconsin
on May 11, 2022
Verified Buyer
Chicco is our favorite carseat brand. We have owned an infant, convertible and now harnessed booster! They are affordable, easy to use and comfortable! We will never buy anything else for our kids.
Great seat for our preschooler
By Courtney
from NC
on April 15, 2022
Verified Buyer
It was time to pass our Maxi Cosi Pria down to the baby, so our preschooler needed a new seat. He's 4 and just hit 40lbs, I teetered between a couple different seats and in the end after lots of reviews and YouTube videos, decided to go with the MyFit. I found install with the seatbelt to be good and we're very happy with our choice. He loves having two cup holders and I love that the harness is EASY to tighten and release - unlike a lot of seats. We are ordering another for our other car now!
Pros
Easy to install, easy to tighten straps, overall comfortable.
Cons
Like any seat you have to get it set up for your child. This is always the worst part of opening up a new car seat and I feel like I had to go back to the manual multiple times to double check where to store the LATCH clips and how the seatbelt should run through to install because we're finally at 40lbs (meaning you can't use the LATCH).
Perfect carseat for our toddler
By Brooklyn
from OR
on April 6, 2022
Verified Buyer
This carseat is everything we hoped it would be. It's comfortable, fits very well in our backseat with other car seats yet feels extremely sturdy.
By DIana
from Jacksonville
on March 22, 2022
Verified Buyer
It's almost as good as the Nuna toddler car seat my kiids love it they feel very comfy in it
By Heather
from California
on February 20, 2022
Verified Buyer
The. Chicco MyFit was a great upgrade for my big kid. He was visibly uncomfortable in his Graco 4ever and since we live a ways out of town, we spend a lot of time in the car! He falls asleep in this every time and even on the most upright setting his head doesn't excessively flop down, he's able to lean his head back. He loves his seat! I just wish I had splurged for the Max version because the easy cinch latch system is so nice lol. Ordering from AlbeeBaby was quick and painless, my seat came in great shape, and I was thrilled with quality.
By Emily
from Los Altos
on February 2, 2022
Verified Buyer
Bought this for my son who has grown out of his old car seat. It's wide and comfortable for long rides, and he really likes the cup holder on both sides that come with the car seat.
By Kendra
from Tennessee
on December 29, 2021
Verified Buyer
This seat is easy to install. Installed with seatbelt and LATCH and both installs are super easy. Kiddo likes his new seat and fell asleep in it, so must be comfy.
By Amy
from Arizona
on November 2, 2021
Verified Buyer
We have LOVED this seat so much!!! The convertible carseats are great, but they are so big and bulky. We were able to transition straight from the fit2 to this seat and it is wonderful! It sits a little higher than the high-back booster, but width wise is just as small! Our toddlers have LOVED it and feel like they're in such a big kid seat, but we know they're nice and secure in a 5-point harness :)
Pros
Space saver
Secure
Easy to install
By Michelle
from Chicago
on September 29, 2021
Verified Buyer
Once again Chicco makes an amazing product. My 3yr old loves his new seat. The padding makes it comfortable for him and it was simple for my husband to install. Love the no-thread harness too! My only complaint is one cup holder won't stay clipped in.
Easy to install, very sturdy and secure
By Scott
from New Jersey
on August 25, 2021
Verified Buyer
Installation is very easy, especially with LATCH, and the whole seat feels very sturdy and comfortable.
By Mal
from North Carolina
on August 25, 2021
Verified Buyer
Amongst my whole family, I think we have six or more of these seats. They are easy to install and incredibly easy to adjust. My nephews like them and my daughter loves her big seat. I really like the cup holders. They're nice and big. I love the length of the straps. I can pull them out far enough to loop them around the armrests to keep them out of the way while she gets in and out. My daughter also likes the way this seat can recline a little more than the convertible seat she was in. It leans her back so her head doesn't fall forward when she passes out in the car. It's a great seat at a great price.
Pros
Big cup holders
Lengthy straps
Good recline
Comfortable
Easy install
Easy to adjust
Great chair, easy to install
By Alyssa
from Superior, Colorado
on June 10, 2021
Verified Buyer
We've only been using it about a week, but we were pleased to see that we installed it correctly when checking with a carseat tech. One note: you cannot use seat protectors with this car seat - so if that matters to you, skip it. We bought because our newly 4 year old is giant - 99th percentile in height (45 inches) and he had outgrown the front facing harness height for both his Diono and Clek, even though he was technically within height limits for full standing... his seated height from tush to shoulders was too high. So, check that before you buy any seat!
Pros
Very tall harness height
Easy to install
Cup folders are cool
Arm rests
Best Uses
Tall kids
Extended 5-point harness
Cons
Can't use a seat protector
By Charting
from Wyoming
on June 9, 2021
Verified Buyer
I bought this car seat for my husbands car for our 2 1/2-year-old daughter and we loved it so much that we bought one for my mothers car so she can take my daughter with her. It is perfect! It will last us for several years.
By Anonymous
from Wetumpka, Alabama
on June 4, 2021
Verified Buyer
This is our 2nd Chicco MyFit we have gotten from albeebaby abd we love them! Super tight install with the lockoff and they are super comfy! My daughter is tall so this is about the only one she can be harnessed in, but I love them anyways!
By Ebm24
from Colorado
on May 29, 2021
Verified Buyer
We've owned everything from Graco to diono to Chicco and this is by far the best one. It's so user friendly and installs like a champ!! It adjusts without having to take it apart and manually move the straps. Huge plus! Soft, has arm rests and is great for drooping/sleeping heads.
Pros
Soft, comfortable, good for sleeping
By Rebecca
from Durham, North Carolina
on April 21, 2021
Verified Buyer
weve had and loved the keyfit and nextfit, so it only made sense to stick with what we love. easy install, kiddo is comfy. havent had to clean it yet but im assuming it will be as easy as its predecessors have been. narrowness helps us fitting 3 across.
By Leone
from Baltimore, Maryland
on April 17, 2021
Verified Buyer
Getting the seat set up for installation took longer than expected. The directions were super unclear. We had to look online to figure out how to store the latch straps and move the buckle. It took a couple of tries to get the seat tight enough with the seat belt installation in our Mazda3 sedan. We like that it has one of the highest harness height limits so we can keep our tall 5 y.o. harnessed longer.
Pros
High harness height.
Narrow profile.
Great for a large toddler
By Valisa
from SC
on April 9, 2021
Verified Buyer
I was concerned that it might be too slim for my large 2 year old. Turns out, it's roomy inside the seat. He loves it. We use the recline feature often. It prevents his head from falling forward. It's way easier to loosen and tighten the straps than any other car seat we've had. Very well pleased.
Pros
Roomy
Reclines
Easy to loosen/tighten straps
Cons
Cup holders may be too far away at first.
By Rachel
from Houston, Texas
on March 31, 2021
Verified Buyer
We absolutely love this seat. It came in super fast after ordering and my daughter is obsessed with the arm rests that it has. She never complains about the fit or feel of the seat. Install was a little hard but as we have had to use it more we are getting better at it. The harness is super easy to adjust and the pads on the harness provide extra comfort! The adjustable cup holders are perfect for fitting 3 across in our car. We are super happy with our purchase!
Pros
Harness is easy to adjust, flexible cup holders, comfort for child
Cons
Some issues with installing for the first time. Highly recommend reading the manual a few times to help.
By Kerri
from NC
on March 26, 2021
Verified Buyer
My 6 year old daughter loves the seat.
By Nicole J.
from MN
on January 20, 2021
Verified Buyer
I like this seat. It's easy to tighten and adjust. Love that it has a harness option so we can get more use out of it.
By Ashton
from Oklahoma
on December 24, 2020
Verified Buyer
I love that I can keep my tall toddler in a 5point harness. This seat it super easy to install and my kiddo seems pretty comfortable in it.
Pros
Higher Harness height limit
Easy install
Chico my fit harness seat
By NiNi
from WV
on December 11, 2020
Verified Buyer
This is the second one I've purchased... I really like the Chico Brand. Good product
By Alicia
from Minneapolis,MN
on November 23, 2020
Verified Buyer
Narrow seat, and comfortable for my child! Perfect solution for 3 across—and it won't break the bank! We've had it for a year now, and still love it!
By Kylah
from Illinois
on November 13, 2020
Verified Buyer
Easiest install, love that it reclines to fit the seats better also! Seatbelt lock off is my favorite thing! My son is loving this seat already!
Pros
Easy install
Lock off
Reclining options
Padding
By Emazing
from New York
on November 8, 2020
Verified Buyer
We had one of these and had to replace due to a car accident. This seat it's easy to use, slim profile, and to my 3 year old very comfortable. I like that it has recline options to fit the child and seat. Also love the seat belt lock offs.
By Shayna
from Nashua, nh
on October 21, 2020
Verified Buyer
We have been using this car seat for 6 months now. It has been a great seat for my son. It is easy to clean. I Highly recommend this seat
Pros
Easy to clean
Comfortable
Easy to install
Cons
I can?t think of any cons
Great seat, easy to install
By Lyndsay H.
from Alabama
on September 19, 2020
Verified Buyer
Chicco always impresses!
By Kelley S.
from Gainesville, FL
on September 18, 2020
Verified Buyer
Comfortable and safe seat for my 5 year old. This seat was was easy to install and shipping was fast and easy. This is the 3rd carseat I have orderEd from this company and will continue to do so in the future.
By MAUREEN B.
from Bay Area
on September 17, 2020
Verified Buyer
This is so nice. It is sleek and works well in my Prius Prime. I am going to buy a second one for my van. My son said it is so comfortable. He is very tall and it accommodates his height with room to grow. It came quickly and the price with a coupon was perfect!
By Anonymous
from Los ?ngeles, ca
on September 1, 2020
Verified Buyer
I really love this car seat because the quality is truly amazing. Im a big Chicco brand buyer and this is worth the investment.
Pros
My kids are on the taller side and most car seats end up being too small quick, not enough space because their growth spurts are out of control! And this gives my 4 yr old a lot of room.
Cons
The downside but plus side is that it is very heavy at about 24/25 pounds. It makes it more sturdy on the seat but not fun when needing to remove it out the car. Only reason why I gave it 4 stars instead of 5.
By Alexandria
from Clarksville, Tennessee
on August 8, 2020
Verified Buyer
I have had many carseats and this one is one of my favorites. It is so comfy, has the softest cover and my kid loves it. He's 6.5 and still fits with room to grow so its a long lasting seat. It has a recline and I love that since it is forward facing He is able to still lean back some and not be so upright. Its easy to take the bottom part of the padding off in case of a potty accident too.
By Jay
from Lake Charles, La
on July 22, 2020
Verified Buyer
Really went back and forth between the chicco myfit and the britax frontier. I chose the chicco because there were too many complaints about the britax harness. Super happy with purchase. My 4 year old is very tall and this seat is perfect for her. Easy to install and isn't too bulky for my car. Would definitely recommend.
By Bethany
from Coxs Mills, West Virginia
on May 27, 2020
Verified Buyer
After trying multiple brands of seats, this one is by far the best. The quality it great. The fabric is soft and breathable. It is very easy to get the seat secure and snug unlike many other seats. My very opinionated son has never complained while riding in it. I have been so pleased with the seat that I ended up purchasing another one for my husbands truck.
By Alexis
from Eden, Vermont
on May 11, 2020
Verified Buyer
This booster seat is Great! My son loves his new "seatbelt" as he calls it! The harness tightens perfect and so smoothly, super easy to install! Great seat all around!
Pros
Easy install
Smooth harness tightening
By Hannah
from Iowa
on May 6, 2020
Verified Buyer
This is the second MyFit that I have purchased for my child. Love that the material holds up well with frequent washings. It doesn't pill or show wear. It also hides spills and stains well (life with toddlers, am I right?) My favorite feature of this seat is the anchors and the tether. They come with an easy pull strap that doesn't twist or get caught when trying to tighten! I would say the only downfall of this seat is that it is heavy. In my opinion this is a seat you want to install and not have to take out frequently. It is a narrow seat, we have this seat and two other car seats in the back seat of a 2013 Chevy Silverado and they all fit comfortably. We are loyal to the Chicco brand because of the high quality of their products and their no frills design.
Pros
Ability to disassemble to wash
Easy access to anchors and tether
By Erin z.
from Naperville, IL
on May 3, 2020
Verified Buyer
Just got this car seat for our 2 year old. Very sturdy and the straps are easy to maneuver taking our daughter in and out of. Price was great too.
Pros
Sturdy, straps easy to handle, good quality, cup holder. Price was great
By Amber
from Florida
on April 23, 2020
Verified Buyer
Upgrading my daughter from her Chicco NextFit. I wasn't ready to transition her to a normal booster. I am happy with the harness option and the seat seems very sturdy. Also this company is great! This was the cheapest, with free shipping, and I received it within a couple of days.
By Alexandra
from Bolingbrook,IL
on March 15, 2020
Verified Buyer
We've always been a Britax family. However we needed a 2nd car seat and decided to give this a try mainly because of the reviews and the cup holders. Britax doesn't come with them, you have to purchase separately on convertible car seats. They do offer it on their harness to booster but when I saw that the chicco myfit also offered recline I was sold! My kiddo always falls asleep in the car.I've owned Many car seats as I like trying them all and seeing which is best for us (clek,Britax,cosi etc) and BIG on safety and comfort and this is by far my favorite. My kiddos loves his double cup holders for his toys and snacks and cups and they remove easily to clean and I feel safety is definitely met with this seat. Definitely recommend this great car seat.
Pros
Recline
Cup holders
Safety
Adjustable head rest
Good looking
Easy to install
Cons
Crease lines (I hate crease lines) seems like all of chiccos fabric tends to show wear fairly quickly on the fabric.
Favorite toddler car seat!
By Brittany
from Ohio
on March 10, 2020
Verified Buyer
I got my first myfit harness booster a couple years ago for my older son. My younger son just turned two and I knew he needed one too. These car seats are seriously the best! My kids are so comfortable in them, they have double cup holders, they're easy to get in and out of! We actually own 3 of the same seat we love them so much. I'd highly recommend this seat if you're considering it! .
Our favorite booster seat!
By Beth
from Iowa
on February 12, 2020
Verified Buyer
This is our second Chicco MyFit Harness Booster. It is replacing a different brand (Britax), which we never liked. We bought the Chicco to replace the Britax booster in our main vehicle. The straps tighten and loosen so easily which is convenient, as I'm usually in a hurry when I'm putting kids in and out of the vehicle. We have had a lot of Chicco car seats over the years and they hold up well and have great padding for the kids as well! The cup holders are great too as cups don't tend to get stuck in them like they did our old car seat. All in all, I highly recommend this car seat! Another bonus -- it's not as wide as many different harness boosters on the market, which we needed for one of our cars.
Pros
Straps are easy to tighten & loosen
Narrow in size
Cup holders are a great size
Great padding
By Jessica
from Pittsburgh, pa
on January 23, 2020
Verified Buyer
Just turned my 3.5 year old FF. This seat came in 2 days, it was easy to install with the lock feature, and my daughter says it's very comfortable. If you're looking for a comfortable band easy to install seat this is perfect.
By CW4
from Michigan
on January 20, 2020
Verified Buyer
We bought this as a step up from the nextfit. My kiddo loves it and so do we. I do wish the latch system was the same as the nextfit though. It works well but not as easy as the nextfit. Would recommend to anyone looking for a great booster!
By Kristen D.
from Roswell, Ga
on January 14, 2020
Verified Buyer
We bought this carseat because we had to get a convertible carseat for our daughter. We ended up giving her our son's carseat (The Chicco Nextfit Zip which we also love!) We then decided to just do a harness booster car seat for our three year old. He loves it so much! It's also super easy to install and also easy to get in and out of. We highly recommend this product!
Pros
Easy to get in and out of
two cupholders!