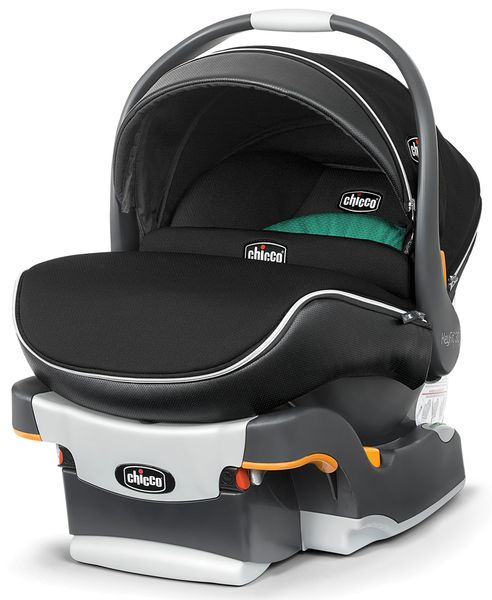 By Jessica
from Richland, Washington
on September 8, 2022
Verified Buyer
100000% always recommend this carseat. It's the best.
By Irina
from Santa Monica , ca
on April 28, 2022
Verified Buyer
Great car seat if you have a premi baby unfortunately our son was born in the 98% for weight and height and outdrew this seat way before we were weary for him to transition. The bucket was a bit heavier than I expected plus putting a 10lbs baby in made it hard PP to carry. But I would recommend it as it's easy to install and click in and out as well as it's compact in the back seat with another car seat next to it. As well as easy to clean
By Amber
from Wilkesboro, North Carolina
on January 29, 2022
Verified Buyer
I used this infant seat for my second child born in middle of winter! I love that it has its own cover to help keep baby warm and the inserts that come with this seat are amazing as well!
By Janae
from Richmond, Va
on September 4, 2021
Verified Buyer
I ordered a Chicco Keyfit 30 for $65 less than it retails for. I received it in 3 business days on my doorstep. No issues or damages. I was apprehensive based on reviews but I would highly recommend!!
By carson
from los angeles
on April 30, 2021
Verified Buyer
My wife and I love this car seat. Used when bringing our newborn home from and the hospital and shit fit perfectly and snuggly in it. She is now 6 months and still gits well. We have not used the zip function though, but the air mesh material does feel like it works well. It was also so easy to install in the car. Definitely recommend. Love Chicco products. We have also just recently purchased the Chicco Activ3 and looking forward to using it.
By Joleen
from Henderson, NV
on March 8, 2021
Verified Buyer
Very easy to clean, nice fabric, very cushiony, I love the cover and how I can zip away extra pieces
By Heather
from Montana
on December 27, 2020
Verified Buyer
This car seat is the best I love the zip as it has the extra car seat cover part ! It's great for winter time !! I tell everyone how much u love this car seat !
By Pat
from Delaware
on December 16, 2020
Verified Buyer
Quick delivery
The most convenient infant car seat
By Warren
from NY, NY
on December 1, 2020
Verified Buyer
My daughter can sleep all day everyday in this car seat. Very to transport in and out of car and safety is very good as it is so sturdy.
By Daisy
from Augusta
on November 25, 2020
Verified Buyer
My baby loves to be in this car seat
By YJ
from ANN ARBOR, Michigan
on November 23, 2020
Verified Buyer
It covers very well for my little one。
By jenny
from Georgia
on November 23, 2020
Verified Buyer
I love the color combinations of this car seat.
By Kori
from Central Texas
on November 4, 2020
Verified Buyer
This our third infant seat so I've definitely learned what I like and don't like when it comes to baby carseats. I absolutely love everything about this seat. Its soft and plush, the zip boot will be so helpful in keeping my December baby warm and being able to easily take the cover off to wash is such a convenience for carseat spit ups and blow outs. Install literally takes 2 minutes and is SECURE! If I could change one thing it'd be to have more space between the canopy and handle, but it's not a deal breaker for me compared to other things I could complain about.
By Deborah
from Boise, ID
on October 22, 2020
Verified Buyer
I am having my fourth baby and my first three used a Keyfit 30. I knew I wanted to go with the same Chicco brand for infant car seat as it is incredibly easy to get a good install in many vehicles and the click you hear gives assurance your seat is in place. I have noticed with other infant seats, you do not get that assurance and the seat may not be fully secured. I went with the zip air to have the large vented sunshade and more vented material for summer time. Nothing worse than a hot baby who can't get the sun out of his/her eyes! The zip of boot is nice but the extended and vented sunshade and upgraded material were my deciding factors as when my first three were in infant seats there was only one model to the Keyfit 30. I fully expect to use this seat beyond a year as my other three did with the 30lbs/30" specs. It also still connects to my stroller (not a chicco brand) that I purchased in 2010.
By Kay
from Virginia
on September 21, 2020
Verified Buyer
As someone coming from being an avid Britax user, we LOVE this car seat. It's light (er than Britax) but still just as safe. we paid extra for the Zip Air thing & was not thrilled. It's essentially a zip over blanket type cover. It doesn't secure to the seat as well as I'd like it to, it just had two thin pieces of Velcro on the side, but I do really like the look of it.
By Anonymous
from Sanford North Carolina
on September 17, 2020
Verified Buyer
Awesome infant seat keeps baby cool and warm
Chico key fit30 manhattan Zip up
By ExcitedNina
from North Carolina
on September 16, 2020
Verified Buyer
I ordered this car seat for my sister, and she loves it! I have been looking at this car seat for MONTHS! Even price shopping it but no one could beat allbeebabys price! It went on a final sale and I finally pulled the trigger and placed the order! What's even better is it got delivered to her (I'm in NC & she's in Tx) and quickly as promised!
By Whitney
from Knoxville, Tennessee
on August 24, 2020
Verified Buyer
We love all things chicco. Easy install. Soft materials for sensitive baby skin. Super safe. Definitely recommend.
By Sofia
from Miami, Florida
on August 20, 2020
Verified Buyer
This is great! I am so happy with it
By Rebecca
from Georgia ,
on August 15, 2020
Verified Buyer
Great seat.
By Amber
from Robinson IL
on August 13, 2020
Verified Buyer
We love this car seat
By Kesha
from Norman, ok
on August 7, 2020
Verified Buyer
I loved the price and how It shipped and I received it within 3 days of ordering. I am happy with my choice. It feels so soft and cushy. Baby will be here next month so I hope she will be comfortable and warm in it. My 15 month old approves of it as he laid in it and didnt want to get out if it. He had a graco carseat and he hated it and I had to transition him out of it at 4 to 5 months at 16 lbs to a convertible seat. I hated not getting much used out of his infant carseat. I am hoping to use this carseat up until she is 1.
Excellent products and fantastic customer service!
By Nanna16
from Texas
on July 25, 2020
Verified Buyer
Chicco is always my first choice for safe, high quality car seats and this infant seat did not disappoint. The safety features are always top notch in Chicco car seats and the fabrics on this Manhattan are very nice. My son and daughter-in-love are very pleased. And, as I have come to expect from Albee Baby, it shipped quickly and arrived two days after the order.
Great deal for an excellent car seat
By Emily
from Pittsburgh, Pennsylvania
on July 8, 2020
Verified Buyer
We used this same seat for our first child, but it has since expired. I was thrilled to find such a good deal on the same seat to use for our second. Shipped and arrived very quickly! Easy to install and use, and most important - it's safe!
By Bee
from West Virginia
on June 11, 2020
Verified Buyer
Product was exactly what I ordered, as the web sight described. Shipping was fast, and best price I could find!
By Aly
from Knoxville, TN
on May 26, 2020
Verified Buyer
Chicco keyfit 30 has been the #1 rated car seat for safety for several years. I absolutely love this car seat and wouldn't purchase another brand. Albeebaby has great discounts and you know you're getting the best deal here!
Pros
Safe
Safe
Safe
Easy to clean
Design
Cons
Heavy, but aren?t all car seats?
Grandma and Caregiver Loves this Carrier!
By KIRSTIN
from SAINT JOSEPH, MICHIGAN
on May 17, 2020
Verified Buyer
Just purchased this for our first grandchild, because as a daycare provider I have used many infant carriers and love the ease and convenience of Chicco KeyFit. The seat padding is super cushy and soft, and the zip feature of the boot will be perfect for a midwest winter! Safety and durability are of utmost importance, and while there are many great seats available, the KeyFit was an awesome price on Albee Baby! I almost couldn't believe the great deal I received. Another plus of the KeyFit 30 is the weight of the seat alone; still lightweight enough to carry comfortably. Many other seats are so heavy, they lose the convenience factor. I'm really pleased with the purchase of the KeyFit 30 Zip. Now to excitedly wait for the birth of our grandchild!
By Heidi
from Illinois
on May 9, 2020
Verified Buyer
Bought this car seat to replace an expiring one. Previously we had a very basic Keyfit 30, which was easy to use and had good safety ratings. I got this one expecting more of the same with a zip-on cover for added warmth. However, it seems like the whole car seat is more deluxe, with softer pads and inserts that will fit a newborn better than our previous car seat. I'm more excited about this car seat than I thought I'd be!
By Alicia
from Bonner Springs, KS
on May 4, 2020
Verified Buyer
We had the Chicco KeyFit 30 and loved it so much we decided to buy this upgraded version. We haven't used it yet but it shipped faster than expected and there doesn't appear to be anything wrong with it.
By Bridget
from TX - Texas
on May 3, 2020
Verified Buyer
We have only been using it for 2 weeks but so far we love it! It is very sturdily made and very easy to install.
Pros
Easy to install
Looks nice
Cons
Heavy because it is made so well
By Amanda
from Mechanicsburg, PA
on March 4, 2020
Verified Buyer
We just purchased this seat for our 2nd child. We were very happy with our Keyfit 30. Can't wait to get this one in!!
By Doreen
from Los Angeles, California
on October 23, 2019
Verified Buyer
great seat, great price. We like the extra shade the detachable visor provides.
By Nicole
from Ft. Myers, FL
on September 24, 2019
Verified Buyer
We love this car seat so much we bought it again for our second baby! We're particular about safety and this was the highest rated for both kids! This was also best price around!
By Yuna h.
from Atlanta
on July 12, 2019
Verified Buyer
I was surprised with the sale price and the quality. I have never seen this big discount on this product. This purchase is very lucky and everything is perfect. Delivery is so fast and no damages. I love it.
Awesome seat, easy to use!
By Courtney
from Vermont
on July 11, 2019
Verified Buyer
The seat is very easy to use and the click in base works great. Love the design and found the best deal on Albee Baby's website!
By TinaR
from Clermont, FL
on July 3, 2019
Verified Buyer
The Chicco KeyFit 30 is a great and easy to use car seat for infants. The base is super easy to install and the carrier clicks in and out easily. I would recommend this to anyone looking for a new infant carrier! And love the new neoprenen fabric too! Also love AlbeeBaby quick service and free shipping! I received this seat within 2 days of ordering it!
By Laurie
from Maryland
on June 23, 2019
Verified Buyer
Best car seat around!
A nice upgrade to base model
By Ken
from Hayward, CA
on June 12, 2019
Verified Buyer
Overall everything is the same as the base model except for the zip of the foldable hood, the foot enclosure and the small extension piece of the hood. I think this thing would rock in cold weather but california is a bit mild to really make use. I think the foot enclosure is nice if you really wanted to bundle up your baby to make them warm. Hood extension and unzippable hood is meh at best.
Very good quality car seat for the price
By kranthi
from Canton, Massachusetts
on June 11, 2019
Verified Buyer
Very good quality car seat for the price
By Ali
from Portland, Me
on May 26, 2019
Verified Buyer
Second one I've bought. Great product.
By Tina
from California
on May 9, 2019
Verified Buyer
The base is super easy to install into the car, specially with the latch. The infant insert for the car seat is great. The head rest for the infant insert is easy to adjust. The are only two things that I dislike; one being the canopy cover it doesn't go all the way back, the fit is awkward, almost like it's to small for the car seat. The other is the cover that goes in the front to keep the baby warm, it's a Velcro that holds it in place with a piece of plastic and it falls off so easily, it just doesn't really hold unless it's fully zipped but if I Unzip it to take the baby out it fall right off. You pay more for the foot cover and it's not that good.
By Jenny
from Georgia
on May 7, 2019
Verified Buyer
I've always been happy with my Chico keyfit 30 car seat but this is an upgrade well worth the money. It's design allows for better airflow and consequently a less sweaty baby in the summer months.
By Margaux
from Santa Monica, California
on May 2, 2019
Verified Buyer
I purchased the uppa baby stroller but decided to go with the chicco keyfit 30 car seat instead of the matching uppa baby car seat based on all of high safety reviews I have found for this car seat. I haven't used it yet but it seems sturdy, and comfortable for the baby while being light-ish enough for me to carry around comfortably as needed.
Solid and simple infant seat
By Kate
from Yakima, Washington
on April 4, 2019
Verified Buyer
This car seat feels very sturdy and safe and our son seems quite content and comfortable whenever riding in it. We haven't hit the hot months yet, so I can't attest to the "air" feature of this carseat, but that is one of the main reasons I purchased it. There are a few cons, but overall I wouldn't trade this infant seat for another one.
Cons
Straps get in the way when trying to put baby in.
Handle requires two hands to change it's position.
Boot doesn't stay attached well.
Best upgrade to keyfit 30
By MG
from Denver, Colorado
on February 20, 2019
Verified Buyer
This is an amazing upgrade from the keyfit30 I used to have. Love the new built-in cover, definitely a plus. Great carseat overall, everyone I know owns a keyfit
By Hillary
from Clinton, NY
on February 14, 2019
Verified Buyer
This carseat is perfection! Airy material, sturdy, feels very protective. It connects perfectly to our stroller.
By Jennifer
from Chandler, Arizona
on December 26, 2018
Verified Buyer
We bought this car seat around Black Friday, and it shipped out immediately and we received it so quickly. Although our little boy has not arrived yet, we are already in love with this car seat. All of our friends rave about the ease of use of the Chicco KeyFit, and we chose to go with the Zip Air edition because we live in Arizona and thought the mesh would be great for an all-around warm climate. It also has an extended canopy compared to the standard version, which is perfect to protect the baby from all of our sunny days. My husband and I have been playing around and practicing using it, and it's so easy to click in and out of the base with one hand, and very easy to install in the car. Plus, the price from Albee Baby cannot be beat, and we searched everywhere!
By Kira
from Arkansas
on October 30, 2018
Verified Buyer
My son came unexpectedly at 34 weeks. After a week in the NICU, he was required to take a test to insure that his breathing would not obstructed while riding in his car seat. This seat passed the test with flying colors. It is also very easy to install as we didn't have much time in advance to figure things out. It is also very soft and cradles my little one perfectly. I highly recommend!
Pros
Easy to install
Soft breathable material
By Terra
from Colorado
on August 23, 2018
Verified Buyer
I love this car seat! I feel like it provides great cushion for the baby while at the same time has good airflow throughout.
By Julie
from Chicago, Illinois
on August 11, 2018
Verified Buyer
This is a great seat. Easy to install, well made, and easy to clean.